Written By: roo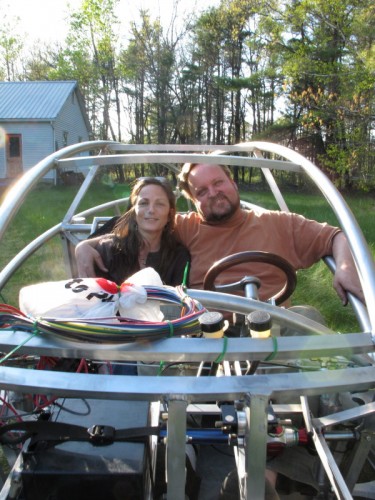 Hi everyone, well it is official ROOPOD will actually drive.  I have been working like a demon on getting everything ready to drive and we are here!
I will try to list some of my most critical observations:
 Suspension is working great, ride height is a little low for the rough roads around here, and my driveway but I will fix that with some slightly taller shocks in the back.
Brakes are doing what they should (as far as I can tell in the yard!) I may need to adjust the balance bar a bit to keep the back from locking up first…the real test will have to wait till I can get some speed up on the road.
Steering seems just perfect, I seem to have got the steering geometry just right, the wheel feels lite in the hands, but not sloppy at all, center return is good and there is no play or stiction anywhere= fancy rack payed off! again we  need high speed testing.
Drive-train:
Engine runs fine, is just about as vibratory as I thought it would be, and maybe a little less loud seems good about not belching much black smoke when under heavy acceleration.
CVT seems to be just right, enguages just above idle as it should and shifts as it should, hopefully it will work as well at higher speeds. actually there seems to be all the torque I need at the low and and I am thinking of putting a bit taller final drive in which could possibly make for a better top speed…hope to try soon.
Reverse Transmission seems to to what is should, I am skeptical of how robust it is going to be , and I hate how wimpy the plastic shift lever is on it…hope it does not break…right now it is held in gear with a zip tie…working on the shifter today actually. (this item is my most worrisome, if it is not up to the job, there will be big back to the drawing board time)
Rear wheel sprocket mounted to the wheel lugs is handeling the torque fine. and would love to figure out a toothed belt for the final drive, but the chain is fine for now…
Fuel system: works in it's abbreviated form, but soon will have a heated fuel tank and heated fuel filter to run Vegetable oil. also a 1 gal diesel tank for starting on. I will be using the solenoid valves and fuel level senders that greasecar has given me, but I am going to make my own heated filter that is smaller and lighter.  I also have to make the heat exchanger for the the fuel tank.
electrical system is just barely hooked up, but that soon will change, I am getting all the stuff I need to hook up all the lights and accessories.  I will have to make my own self canceling turn signal switch. other switches will be toggles on the dashboard.
I am lights and fenders away from being inspectable for the road, and I can't wait!  it may take a couple weeks to get there, but soon!
look at the pictures, I will try to caption the pictures if I am trying to show you anything particular…
and here is the video from the first drive!